Your Local Jewelry Store in Columbia, Missouri
KT Diamond has been a top provider of jewelry in Columbia, Missouri for decades. With beautiful pieces including necklaces, rings, earrings, bracelets, and more, the unique local selection available at KT Diamond is unparalleled by other local jewelry stores in the area.
Our family-owned staff will work with you to find or create the perfect custom piece of jewelry. We house jewelry from big-name brands, all the way down to independent crafters. KT Diamond is also proud to offer its own line of stunning jewelry known as Allure Jewelry. With over 5,000 custom pieces created to date, the Allure line is a favorite of local customers.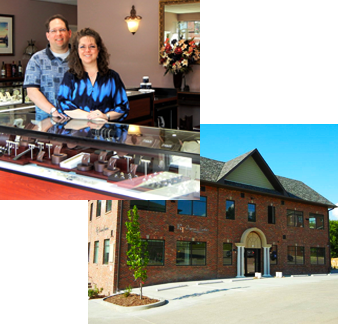 About KT Diamond
KT Diamond Jewelers was founded nearly 15 years ago by Kyle and Tracy Batisch. Prior to KT Diamond Jewelers, Kyle developed his extensive jewelry design skills while working in Downtown Columbia and for a family-owned jewelry store in Denver, CO, where he fell in love with the fine art of creating jewelry. To date, Kyle has sold more than 20,000 engagement rings.
Our Columbia showroom does not lack options. With a large variety of beautiful engagement and wedding rings and endless customization possibilities, you're sure to find your forever ring inside our store. With the help of our highly knowledgable staff, we will make sure your shopping experience is the start of a happily ever after. Visit our Corona Road location today!

Based on 88 reviews