Columbia's Trusted Jewelry Store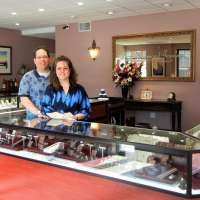 KT Diamond Jewelers was founded nearly 15 years ago by Kyle and Tracy Batisch. Prior to KT Diamond Jewelers, Kyle developed his extensive jewelry design skills while working in Downtown Columbia and for a family-owned jewelry store in Denver, CO, where he fell in love with the fine art of creating jewelry. To date, Kyle has sold more than 20,000 engagement rings.
Nearly two decades of precision jewelry manufacturing under one roof…
Our Columbia showroom does not lack options. With a large variety of beautiful engagement and wedding rings and endless customization possibilities, you're sure to find your forever ring inside our store. With the help of our highly knowledgable staff, we will make sure your shopping experience is the start of a happily ever after. Visit our Corona Road location today!
At KT Diamond Jewelers, we make your custom jewelry ideas come to life. That one-of-a-kind piece you've been dreaming of – we help take it from dream to reality. With over 20 years of jewelry design experience and a genuine passion for custom jewelry, Kyle and Tracy are here to walk you through the entire process and ensure you walk away loving your custom piece forever.
We love giving back to our community here in Columbia, MO. Over the years, KT Diamond Jewelers has been involved in countless charity events and causes we support, donating hundreds of custom jewelry pieces. If you have an event or charity that you would like for us to be involved with, don't hesitate to reach out!